Restoring Beauty and Durability: Stanley Hardscapes' Successful Blue Stone Patio Repair in Greenwich, CT
At Stanley Hardscapes, we take great pride in our ability to transform outdoor spaces into breathtaking havens. Recently, we had the opportunity to work on a blue stone patio repair and reconstruction project in Greenwich, CT. The patio had suffered from failing and cracking joints, compromising its safety and aesthetics. In this blog post, we will take you through the meticulous process we followed to restore this patio to its former glory, combining our expertise and dedication to craftsmanship.
Initial Assessment and Planning
Our journey began with a comprehensive assessment of the blue stone patio. Our experienced hardscape designers and technicians carefully examined the extent of the damage, identifying areas with failing joints and buckling stones. After discussing our findings with the homeowner, we created a detailed plan to address the issues while ensuring the patio's longevity and visual appeal.
Repair and Reconstruction Process
To rectify the failing joints and restore the patio's integrity, our team embarked on a meticulous repair and reconstruction process. The first step involved chiseling out the old cement, ensuring all deteriorating portions were removed. This crucial step set the foundation for a secure and long-lasting repair.
We then focused on cleaning the edges of the blue stones, meticulously removing debris and residue. This step was essential in creating a clean and stable surface for the new joints to adhere to. Our attention to detail during this process guaranteed optimal adhesion and a flawless end result.
Using our expertise, we crafted a perfect cement mixture with a carefully balanced sand-to-cement ratio. This mixture was specifically designed to provide superior adhesion and strength, ensuring the repaired joints would withstand the test of time. Our team's commitment to quality craftsmanship ensured that the patio would not only be visually stunning but also durable.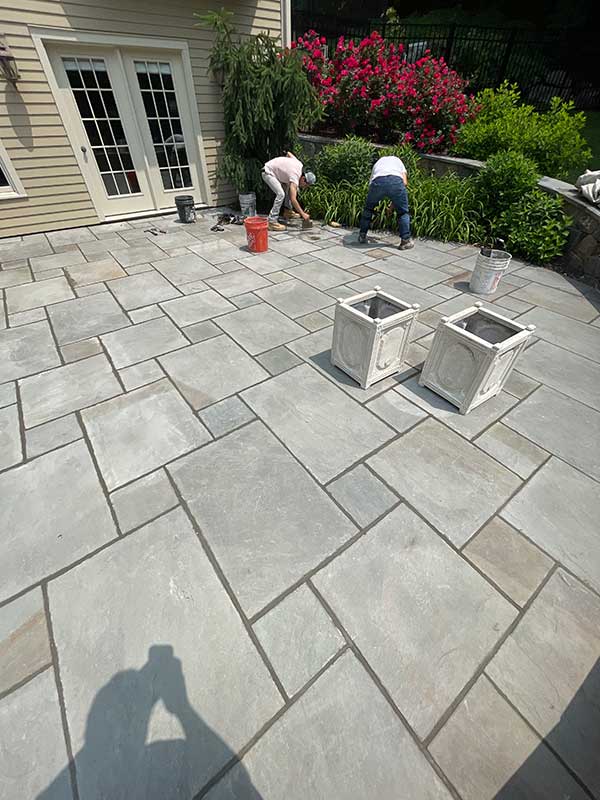 Witnessing the transformation of the blue stone patio was truly remarkable. 
he failing joints were replaced with a fresh layer of meticulously blended cement, seamlessly integrating with the blue stones. The result was a patio that radiated both beauty and strength, surpassing the homeowner's expectations.
At Stanley Hardscapes, our recent blue stone patio repair and reconstruction project in Greenwich, CT, exemplified our commitment to excellence. By addressing the failing joints and carefully reconstructing the patio, we were able to restore its beauty and ensure its durability. If you're in the Greenwich area and seeking expert hardscaping services, look no further. Trust Stanley Hardscapes to deliver outstanding results that will transform your outdoor space into a stunning oasis.
As a leading provider of hardscaping, sealcoating, and masonry services in Fairfield County, Stanley Hardscapes, Sealcoating, and Masonry has been helping homeowners and businesses enhance their properties for years. From custom patios and walkways to durable asphalt driveways and reliable masonry repairs, our team of experienced professionals has the skills and expertise to deliver exceptional results every time.