We recently had the pleasure of rebuilding a brick entryway for a homeowner in Fairfield County, CT.
The project involved repointing all the brickwork, replacing outdated bricks, and removing all the deteriorated mortar. Additionally, we capped each of the steps with granite where they had been capped by slippery wood. The steps pictured are part of a larger brick walkway and add a beautiful accent to the home's entryway.
This project is just one example of the stunning results that can be achieved with brick-pointing.
At this property, like at many properties we see here in Fairfield County, the bricks were old and worn; they had lost their shape, color, and texture. The projects before and after pictures speak for themselves.
By replacing the damaged and outdated bricks and repointing the mortar, we were able to give this entryway a fresh new look.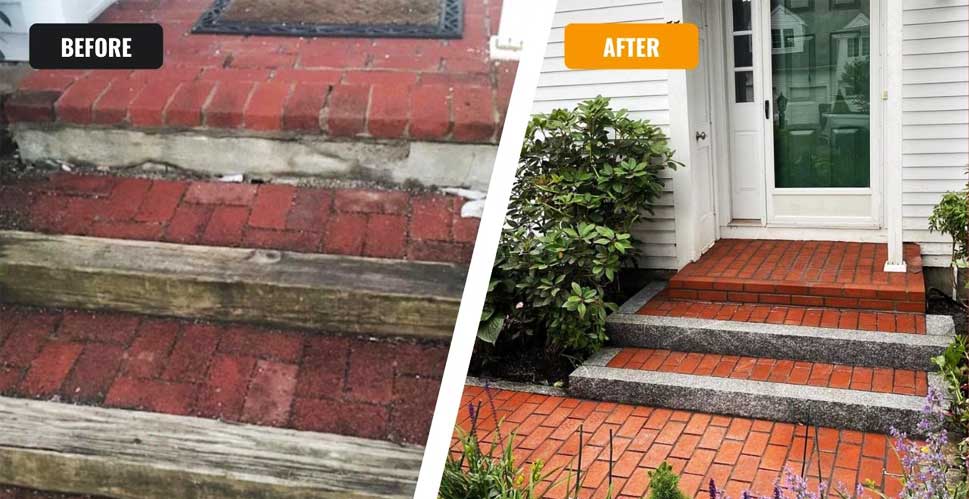 At our company, we take pride in our attention to detail and craftsmanship. We understand that every project is unique and requires a personalized approach.
Our team will work closely with you to ensure that your vision is realized and that the result is a beautiful and functional addition to your home.
We also understand that the decision to undertake a brickwork project can feel daunting, which is why we offer personalized consultations and clear communication throughout the process. Our goal is to make the experience as stress-free as possible while delivering exceptional results.
If you have an old or damaged brick entryway, don't hesitate to contact us for a consultation. Our team has the experience and expertise to make your vision a reality. With our attention to detail and dedication to craftsmanship, you can rest assured that your project will be completed to the highest standards.
Our team of experts has years of experience in the industry and is dedicated to ensuring that each project is completed to the highest standards.
If you have a brickwork project in mind, don't hesitate to contact us. We offer many services, including brick repointing, brick restoration, and repair.