Revitalizing Outdoor Spaces: Stanley Hardscapes Rebuilds Concrete Stairs, Retaining Wall and Walkway in Fairfield, CT
At Stanley Hardscapes, we recently had the opportunity to transform outdoor spaces and create lasting impressions. Recently, we had the privilege of completing a project in Fairfield, CT, which involved demolishing old, crumbling concrete stairs and a connected retaining wall. The task at hand was to redesign and repair a new walkway and retaining wall, ensuring both functionality and aesthetics. In this blog post, we will delve into the steps we took to design and construct the perfect concrete front steps, walkway, and retaining wall. We are pleased to share our client is thrilled with the outcome.
Concrete Masonry Fairfield County
Assessment and Planning: Designing the Concrete Front Steps
Designing the concrete front steps required a delicate balance between form and function. We collaborated closely with the homeowner to understand their vision and incorporate it into the design. Our team meticulously measured and assessed the space, considering factors such as dimensions, elevation, and architectural style. By leveraging our expertise, we crafted a design that seamlessly blended with the home's aesthetics while prioritizing safety and durability.
Crafting a Functional Concrete Walkway
Creating a functional walkway involves careful consideration of various factors, especially in Fairfield's diverse climate.

When working with concrete here in Fairfield you must pay particular attention to the grade of the walkway and in this case stairs, to ensure proper water runoff in all four seasons.
We planned for efficient drainage during the winter to prevent ice formation and pooling. We also accounted for the freeze-thaw cycle by using a stronger cement mixture that is more resistant to damage, ensuring the walkway's longevity.

Concrete Mixing and Pouring
At Stanley Hardscapes, we understand the importance of using the perfect concrete mixture for our projects in Fairfield, Connecticut. For this particular project, we paid utmost attention to the concrete mix, considering the sand-to-cement ratio and the desired strength. Our skilled team expertly mixed the concrete, achieving a flawless consistency that allowed for seamless pouring. With precision and care, we poured the concrete, ensuring even distribution and proper curing for optimal results.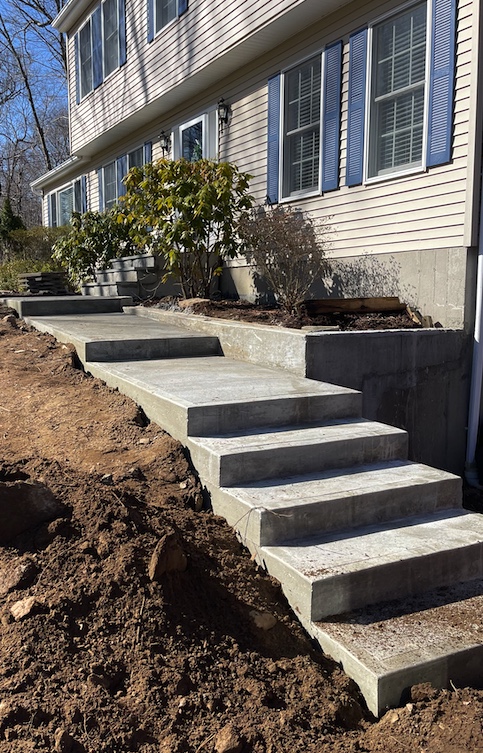 Concrete Masonry Fairfield County, CT. We delivered a great end product to our clients, who were thrilled with the project's outcome!
The ultimate measure of success for our projects lies in the satisfaction of our clients. In this case, the homeowners were overjoyed with the transformation we brought to their outdoor spaces. The newly designed concrete front steps, walkway, and retaining wall not only enhanced the curb appeal of their home but also provided functional and long-lasting solutions. By employing our expertise and employing top-notch techniques, we are confident that this project will stand the test of time, bringing joy and utility for decades to come.
The completion of the concrete stair and walkway project in Fairfield, CT, stands as a testament to Stanley Hardscapes' commitment to excellence. From the demolition of old structures to the meticulous design and implementation of new elements, we prioritized functionality, durability, and aesthetics. Our clients' satisfaction is at the heart of our work, and seeing the homeowners thrilled with the final outcome is a testament to our dedication. If you're in Fairfield or the surrounding areas and seeking hardscaping services, Stanley Hardscapes is here to exceed your expectations and transform your outdoor spaces into breathtaking havens.