Stone walls are very popular in New England. They are a traditional and iconic feature of the region's landscape and can be found throughout the countryside, in gardens, and around homes and businesses. 
Stone is a great building material for Fairfield County, CT, outdoor applications. Durable, stone, and resistant to weathering, making natural or man-made stone options are both fine choices for hardscaping projects such as retaining walls, patios, and walkways. Stone can also add a timeless and natural aesthetic to any outdoor space.
Stone Wall Construction 
Stone walls were originally used as property markers, livestock enclosures, and to clear fields for agriculture, and many of the old walls still stand today, sometimes hundreds of years old. In addition to their functional uses, stone walls have become an important element of New England's aesthetic and cultural identity. Stone walls are often incorporated into the landscape design to add texture, character, and a sense of history.
Stone Wall History
Stone walls are an iconic feature of classic New England landscape design, adding a touch of rustic charm and character to any property.
Here are some popular stone wall projects to consider for your next landscape design project:
Retaining Walls: These walls are designed to hold back soil and prevent erosion on sloping landscapes.

They can be built with a variety of stone types and styles to match the surrounding landscape and provide a practical and aesthetically pleasing solution to erosion problems.

 

Garden Walls: Garden walls are typically shorter and used to create garden beds or separate different areas of the yard.

Garden walls can be built using a variety of stone types and styles and can be curved or straight, depending on your design preferences.

 

Fieldstone Walls: These walls are constructed using fieldstone, which is a type of stone found in the soil of New England farms.

Fieldstone walls are known for their rustic, natural appearance and are perfect for adding character to any landscape design.

 

Dry Stone Walls: Dry stone walls are built without mortar, using only the weight and balance of the stones to keep the wall intact.

Dry stone walls are a traditional type of stone wall that has been used for centuries in New England and are still popular today for their simple, rustic appearance.

 

Mosaic Walls: Mosaic walls feature different sizes and colors of stone arranged in a geometric pattern.

These walls are less sturdy than other types of stone walls and require mortar to hold them together.

 

Veneer Walls: Thin stone veneer walls are a popular choice for adding a touch of natural stone to a property without the cost and weight of a full stone wall. Thin stone veneer is lightweight and versatile, allowing for a wide range of design options.
Whether you are looking to add function or beauty to your landscape design, a stone wall can be a great addition.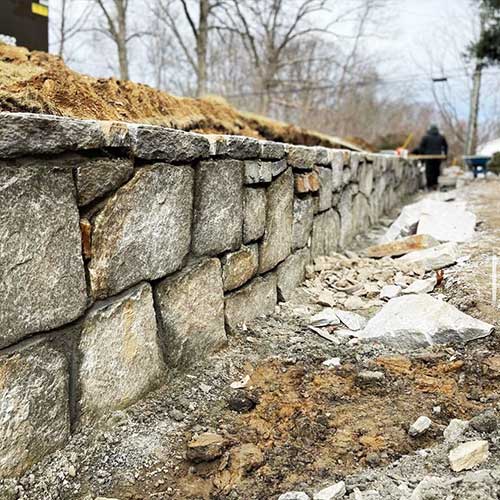 Consider these popular stone wall projects for your next New England landscape design project.
In addition to our stone walls, many homeowners work with masons to seamlessly integrate stone elements into their landscape, stone walls are among the most popular hardscape projects:
Patios: A patio is a paved outdoor area that is perfect for entertaining guests, dining, or relaxing.

 

Walkways: A walkway is a path that is used for walking, and it can be made from a variety of materials such as flagstone, pavers, or concrete.

 

Retaining walls: Retaining walls are used to hold back soil and prevent erosion, and they can be made from a variety of materials such as stone, concrete, or brick.

 

Fire pits: A fire pit is a great addition to any outdoor space, providing warmth and ambiance for gatherings.

 

Outdoor kitchens: Outdoor kitchens are a perfect addition to any backyard, allowing for outdoor cooking and dining.

 

Water features: Water features such as fountains, ponds, and waterfalls can add a calming and relaxing element to any landscape.

 

Outdoor seating areas: Outdoor seating areas such as benches, chairs, and lounges provide a comfortable and inviting space to relax and enjoy the outdoors.

 

Garden walls: Garden walls can be used to create raised garden beds or define the boundaries of a garden.

 

Driveways: A driveway is the first thing people see when they arrive at your home, and it can be made from a variety of materials such as concrete, asphalt, or pavers.