Masonry & Stonework Fairfield CT: Planning, Construction and Maintenance
We take great pride in creating stunning outdoor hardscapes that enhance the beauty of our clients' properties and serve practical purposes.
Recently, we had the pleasure of completing a project in Ridgefield, CT, where we built a beautiful mortar stone wall and staircase that served as both a decorative element and a retaining wall to prevent soil erosion for long-time homeowners.
Stone Wall Construction Ridgefield CT
Using locally sourced stone, we constructed a wall that seamlessly blended with the surrounding landscape. The wall was designed to follow the property's natural contours and was built with a mortared joint, providing extra strength and stability. The result is a wall that not only adds to the aesthetic value of the property but also serves a practical purpose.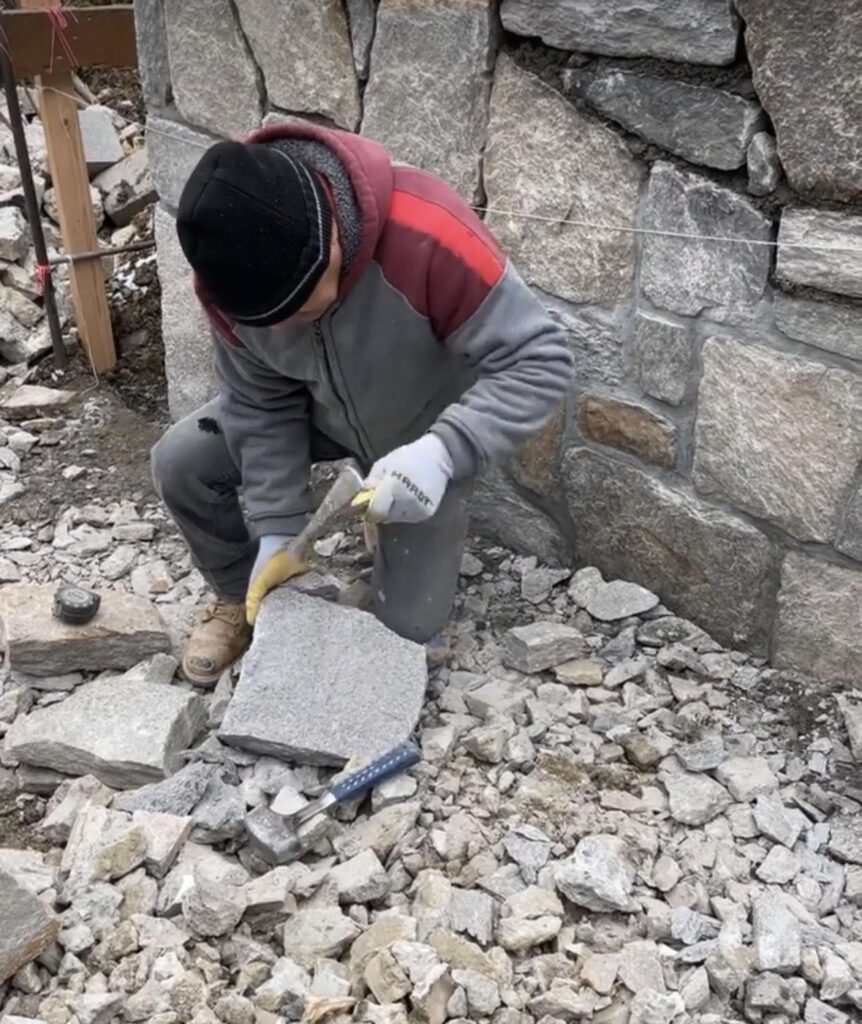 One of the key advantages of using mortared stone walls as a retaining wall is their durability. This wall was constructed to withstand the forces of nature, including wind, rain, and temperature changes, come our Fairfield County winter season. This strength makes mortared stonewalls a great choice for homeowners in Fairfield County looking to add a durable, long-lasting retaining wall to their property.
Why Choose a Mortar Joint Stone Wall?
Durability: Mortared stone walls are highly durable and can withstand harsh weather conditions and natural wear and tear, making them a long-lasting option for retaining walls, garden walls, and other outdoor structures.
Strength and stability: The use of mortar provides additional strength and stability to the wall making mortared stone walls ideal for retaining walls and other structures that require a strong foundation.
Aesthetics: Mortared stone walls are highly customizable and can be designed to fit any style or preference. They can be built with a variety of stone types, colors, and sizes, creating a unique and visually appealing addition to any outdoor space.
Why do we Opt for Mortar Joint Stone Walls for Fairfield County?
Using mortar joints also ensured that the wall will not shift or collapse when we got to winter and the rapid freeze-thaw cycle Fairfield County is famous for. The mortar provides my team and the homeowner alike additional peace of mind. These walls are, pardon the pun, rock-solid.
Stone Stairway Construction
To add to the beauty and functionality of the wall, we also built blue mountain granite stone stairs that provided easy access to the property's home level. The stairs were designed to match the style of the mortared stone wall, creating a cohesive and seamless look. The blue mountain granite steps are also slip-resistant, ensuring that will be safe to use even in wet or icy conditions.
Stone stairs are a popular choice for outdoor hardscapes, as they provide both function and style. Stone stairs are great looking, strong, and long-lasting. They are also highly customizable and sustainable. Plus, unlike artificial stones, these natural stone walls and stairs are packed with personality.